This two-fold aim of service activities, indeed the whole ideology of Ramakrishna Math, has been put in a nutshell in the MOTTO of the Ramakrishna Math and Mission,
Atmano mokshartham jagat hitaya cha,
'For one's own salvation and for the welfare of the world',
formulated by Swami Vivekananda.
Swami Vivekananda in Thrissur
During the days of his wandering in India as a Parivrajaka Sannyasin, Swami Vivekananda reached Thrissur in a bullock cart. At Mysore he decided to travel through Kerala. He got a train ticket up to Shoranur from the Mysore Maharaja. He alighted the train at Shoranur and came to Thrissur by bullock cart.
At Thrissur he stayed for three days in the house of Sri Subramaniya Iyer, an official in the government service. This gentleman was attracted by the young sannyasin's personality and offered his out-house for the Parivrajaka for stay. The Swami was suffering from sore throat. Sri Subramaniya Iyer took the Swami to the government hospital and he was treated there.
After three days the Swami proceeded to Kodungallur. Here he had a first hand experience of the rigid caste system of Kerala – he was denied entry into the Bhagavati Temple. At this place he had another unique experience – he met three women who spoke chaste Sanskrit. During his many years' Parivrajaka life he had never come across women who could speak Sanskrit.
Origin
Vivekodayam Samajam, Thrissur was started in 1915. Yearly celebrations of the birthday of Bhagawan Sri Ramakrishna used to be an important activity of the Samajam.
At this time there was a young advocate Sri Krishna Menon who was the Public Prosecutor at the High Court of Kerala. He was a true Gandhian and also was an ardent follower of Swami Vivekananda. Sri Krishna Menon realized that lawyer's profession was not suitable to him temperamentally. He had relinquished lawyer's profession and started working as the headmaster of the Vivekodayam School, Thrissur.
Sri Ramakrishna Math at Puranattukara
Thrissur District witnessed an unprecedented flood in 1924. Belur Math, the Head Quarters of the Ramakrishna Math and Ramakrishna Mission started a relief camp. Krishna Menon actively participated in the relief activities. Relief camp was closed in 1926. Senior Sannyasins of the Belur Math asked Krishna Menon to start some permanent organization to help the local people. Thus in 1927 the land where the Ramakrishna Math Puranattukara is presently situated was purchased and a Gurukulam and School were started. Krishna Menon later joined the Ramakrishna Math and became well known as Swami Tyageesananda.
Our Emblem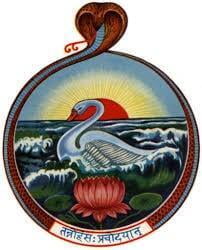 The emblem of the Ramakrishna Order designed by Swamiji is a unique and unparalleled work of art created by one of the richest minds in contemporary history in an exalted mood of spiritual inspiration. It is a profound symbol of harmony and synthesis for reverential meditation in this present age of conflict and disharmony. This symbol is the epitome of Swamiji's message of harmony and synthesis, leading to life's fulfilment. This is indeed the most eloquent expression of what he really preached, what he wanted every man and woman to be, to realize, either in the East or in the West. The goal is to realize, even in this very life, one's real Self, the self-effulgent Atman, the Swan in the emblem and through this realization to be free of all limitations, all bondages, all littleness. This spiritual freedom is one thing to be aspired for and achieved in this very life. It releases one from one's prison-house of limited individuality and confers upon him or her, the blessing of universal existence. He then becomes one with Existence-Knowledge-Bliss Absolute.
'Be free. This is the whole of religion' said Swamiji.
The meaning behind this emblem, in the language of Vivekananda himself: "
The wavy waters in the picture are symbolic of Karma,
the lotus of Bhakti,
and the rising-sun of Jnana.
The encircling serpent is indicative of Yoga and awakened Kundalini Shakti,
while the swan in the picture stands for Paramatman.
Therefore, the ideal of the picture is that by the union of Karma, Jnana, Bhakti and Yoga, the vision of the Paramatman is obtained"
Sri Ramakrishna Paramahamsa 1836-1886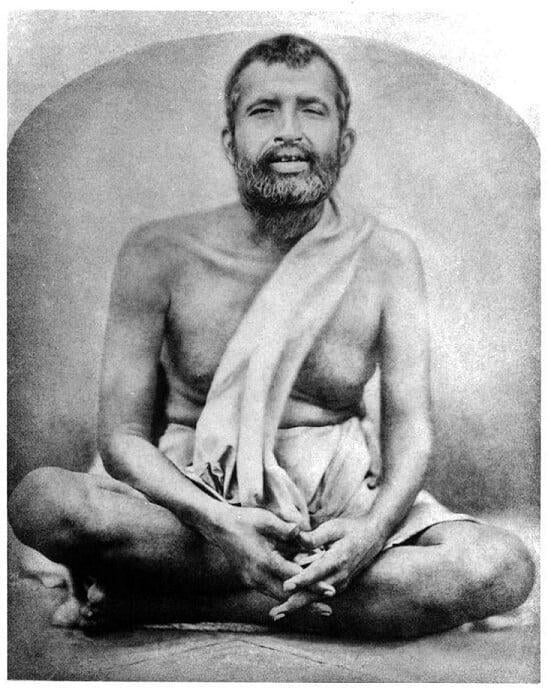 One day Swami Vivekananda told his brother disciple Swami Yogananda: "Sri Ramakrishna is far greater than his disciples understand him to be….One gracious glance of his eyes can create a hundred thousand Vivekanandas at this instant! But if this time he chooses, instead, to work through me, making me his instrument, I can only bow to his will."
Yes, while a sage like Swami Vivekananda has no way but subject himself to the will of Iswara or the Incarnation of God, what alternative do we have other than obeying His command? Mother knows what food best suits to her children. Likewise, God knows what advice His children need from time to time. It is an immensely great news for the world that the all-merciful God has incarnated and showed the 'way of the day' to his children through His Human Life and teachings to restore Dharma (righteousness).
A couple of days before the Sri Ramakrishna's passing away, when Naren (later Swami Vivekananda) and a few others were standing by their master's bed at night, a curious thought flashed across Naren's mind: "The Master has said many a time that he is an Incarnation of God. If he now says in the midst of the throes of death, in this terrible moment of human anguish and physical pain, 'I am God Incarnate', then I will believe." No sooner had Naren thought this than the Master turned towards him and, summoning all his energy, said, "O my Naren, are you not yet convinced? He who was Rama, He who was Krishna, He Himself is now Ramakrishna in this body: not in your Vedantic sense [according to which each soul is potentially divine], but actually so."
After completing his divine earthly mission, and initiating the spreading of his purifying message all over the world by his illustrious disciples that in turn set in motion the Ramakrishna Movement which later turned out to be the twin organizations, – Ramakrishna Math & Ramakrishna Mission – the greatest among the Incarnations returned to his heavenly abode. The command of the Age has come. Hence all those who want to acquire godly qualities will have to imbibe his life and message in order to transcend the human world.
Holy Mother Sarada Devi 1853-1920
Sri Ramakrishna who had reached the heights of religion, was relatively unknown until he was introduced to Bengali intelligentsia by the Brahmo Samaj leader, Keshav Chandra Sen. Sen's articles and talks about Sri Ramakrishna inspired many groups of people to visit the sage. Aspiring minds for spirituality found a clear cut role model. Though many people came to visit him, few knew about his wife, Sri Sarada Devi.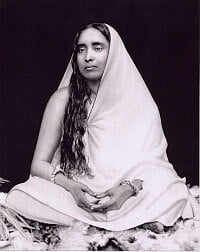 Almost unnoticed, Sarada Devi, stayed out of sight in Dakshineshwar, in a small building called the Nahabat, cooking and doing all other chores for him. Born in the village of Jayrambati in 1854, a few miles away from Kamarpukur, Sarada Devi was married to Sri Ramakrishna at the tender age of 5. She joined her husband at the Kali temple of Dakshineshwar when she was 18 years of age. With inborn purity, she immediately recognized the divine nature of her husband and was inspired to lead a spiritual life herself. Rejecting the known relationship of husband and wife, they led the pure life of a teacher and a pupil. As for Sri Ramakrishna, he viewed her as the Divine Mother Herself and offered his spiritual fruits to her in the celebrated Shodashi Puja.
Her spiritual Sadhana is relatively less known. On rare occasions, her inborn shyness was breached and she divulged the few bits of information that we do know about her spiritual attainments. We have to rely on her companions and disciples as sources of information who attest to her spiritual heights.
You have not yet understood the wonderful significance of Mother's life - none of you. But gradually you will know. Without Shakti (Power) there is no regeneration for the world... Mother has been born to revive that wonderful Shakti in India...
~Swami Vivekananda

After the Mahasamadhi of Sri Ramakrishna, it was her guiding hand that steadied the rocky nature of a fledgling organization. Her practical wisdom coupled with inherent motherly care guided many of the decisions taken by the direct disciples of Sri Ramakrishna.
Her innate spirituality was sought by many people and she initiated many people with the divine names of God. Her ways of initiating people were very simple, a reflection of her own simplicity. Her initiation of a porter on the railway platform itself reveals her informal, motherly way. Though in the midst of her eccentric relatives, the Mother was the personification of unattached work. Sri Sarada Devi, as a spiritual aspirant, wife and mother is the role-model for the woman of our times.
With her loving heart, she immediately appeals to everyone as their very mother, earning for herself the epithet, Holy Mother. Her words "Always remember that you have a mother" rings in the ears of every devotee.
Swami Vivekananda 1863-1902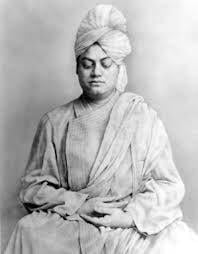 Swami Vivekananda, known in his pre-monastic life as Narendranath Datta, was born in an affluent family in Kolkata on 12 January 1863. His father,Vishwanath Datta, was a successful attorney with interests in a wide range of subjects, and his mother, Bhuvaneshwari Devi, was endowed with deep devotion, strong character and other qualities. A precocious boy, Narendra excelled in music, gymnastics and studies. By the time he graduated from Calcutta University, he had acquired a vast knowledge of different subjects, especially Western philosophy and history. Born with a yogic temperament, he used to practise meditation even from his boyhood. His boyhood quest for God lead him to Sri Ramakrishna, the priest of Mother Kali at the Dakshineswar Kali Temple.
"Naren will pass away only of his own will. The moment he realizes who he is, he will refuse to stay a moment longer in the body. The time will come when he will shake the world to its foundations through the strength of his intellectual and spiritual powers," Sri Ramakrishna once said to the other disciples.
After the maha samadhi of Sri Ramakrishna he took the vows of Sannyasa and accepted the name Swami Vivekananda.Swami Vivekananda in Thrissur
During his Parivrajaka days, Swami Vivekananda arrived at Mysore and Mysore Maharaja accorded him great reverence and royal treatment. After his sojourn at Mysore and bidding Mysore Maharaja adieu, Swami Vivekananda left for Kerala. He refused to accept any gift from the Maharaja except a train ticket that would take him to Thrissur in Kerala. It might have been his meeting with Dr. Palpu at Bangalore that prompted him to give up his earlier plan to leave for Kanyakumari via Rameswaram.
The nearest railway station for Thrissur was Shoranur; Swamiji alighted at Shoranur and traveled the twenty‐one miles to Thrissur by bullock‐cart. It is said that when the bullock‐cart passed in front of the house of one D. A. Subramanya Iyer, an officer in the Education Department of Cochin State, Swamiji got down and asked Shri Iyer, who was standing at the door, whether there was any suitable place for bathing. Impressed by the Swamiʹs personality, this gentleman provided him with facilities for a bath and then entertained him as a guest in an annexe to his house. Afterwards, Subramanya Iyer took him to the District Hospital run by theGovernment, where a Dr. De Souza treated him for sore throat.
"The moment I have realized God sitting in the temple of every human body, the moment I stand in reverence before every human being and see God in him-that moment I am free from bondage, everything that binds vanishes, and I am free."
-Swami Vivekanandan
At Thrissur, the Swami stayed only a few days. He next went to Kodungallur, a place famous as a seat of learning and for its Kali temple. At Kodungallur, people saw him sitting, early one morning, under a banyan tree near the Kali temple. The Swami tried to enter the temple to offer worship to the deity; but the temple guards prevented him. Without getting annoyed, he returned to the tree after bowing down to the Devi from outside. His ochre robes and brilliant eyes attracted the attention of a young man, who approached him with the intention of having some fun; but the young man came away disappointed, when he found that the Swami was not as he had thought him to be.
Just then two princes of the Kodungallur palace ‐ Kochunni Thampuran and Bhattan Thampuran ‐ came to the temple, and noticed the Swami sitting under the banyan tree. The two princes were well versed in the scriptures. They could see from the Swamiʹs features that he was not an ordinary person. When they approached him, he asked them why he was not allowed to enter the temple. They replied that it was difficult to know the caste of people, especially of those who came from outside Kerala, and therefore there was this custom. They had an argument in Sanskrit over the issue. The Swami, however, did not want to interfere with their local tradition, even though the princes were later prepared to allow a person of his calibre to enter the temple. They argued with the Swami for two days, and were defeated. On the third day they approached the Swami with the desire to have his holy company. When they reached the place where he was, they found him meditating. They waited until he had finished. The glowing, calm appearance of the Swami reminded them of what the scriptures say about the man of meditation. After the Swami had come back to normal consciousness, he conversed with the princes in Sanskrit. When they took their leave, they made obeisance at his feet.
Then some of the learned women of the royal family came to meet the Swami and spoke with him in chaste Sanskrit. The Swami was surprised to find women speaking Sanskrit so fluently because in no other part of India had he come across women conversing in Sanskrit.
On the fourth day, the princes again went to the temple; but they were disappointed when they did not find the Swami under the banyan tree. He had left the town and gone towards Cochin. Some months later, when they saw the picture of Swami Vivekananda in the papers and read about his success in the Parliament of Religions at Chicago, they recognized him to be the monk with whom they had spoken under the banyan tree. Only then did they come to know his name.
Ramakrishna Movement in Thrissur
It is no small fortune to be the instrument in spreading the message of an Avatara, an Incarnation of God. This uncommon prospect is as enlightening to the transmitter as to the recipient because grace of God prompts both. Swami Vivekananda once wrote from America to a brother-disciple : "Whoever, at this great spiritual juncture, will stand up with a courageous heart and go on spreading from door to door, from village to village, his (Sri Ramakrishna's) message, is alone my brother, and a son of his." It was that rare privilege of disseminating the message in Kerala's cultural capital that fell to the lot of Krishna Menon who later became Swami Tyagisananda.
In 1915, Sri Appan Thampuran, a senior member of the Royal Family of Kochi, led an enthusiastic group of people in forming Vivekodayam Samajam, a small social outfit centered at Thrissur to revive the Hindu society. In its inaugural year, the Samajam celebrated the 80th birthday of Sri Ramakrishna and its commemorating the subsequent birthday anniversary of Sri Ramakrishna was grander with public feeding and colourful procession in Thrissur town. The celebration was marked by the royal participation of Ramavarma Thampuran, the 9th prince of Kochi.
The Samajam soon found an able helping hand in Sri Krishna Menon, one of its member and a lawyer by profession, and entrusted him with the responsibility of managing its Vivekodayam High School as its headmaster. Krishna Menon was glad to take up the new assignment, leaving the legal occupation which clashed with his standard of Truth acquired partly by his acquaintance with Ramakrishna-Vivekananda literature.
In 1924, an unprecedented flood wrecked havoc in Thrissur. The headquarters of Ramakrishna Math & Ramakrishna Mission at Belur launched relief operations at the affected areas and Krishna Menon took part in the welfare service wholeheartedly.
Krishna Menon was inspired by the 'man-making' and wholesome teachings of Sri Ramakrishna and Swami Vivekananda and the Ramakrishna Movement's dictum of 'Sivajnane Jeevaseva' (Serving Man as God). As he was motivated by a senior swami of the Ramakrishna Order to alleviate sufferings among the impoverished Harijans in Thrissur region, Krishna Menon ventured into the field of uplifting the poor and downtrodden. To start his welfare activity, he chose Puranattukara, a place inhabited mostly by Harijans.